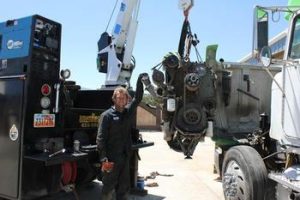 Amen Diesel is a full service diesel repair shop with top of the line mobile service trucks custom built to handle a wide range of repairs out on the road. Our mechanics are ASE certified and our facility is fully licensed and insured.
Amen Diesel averages a complete class 8 truck engine overhaul (in-frame) per week with close to 50 rebuilds a year. Our knowledge, attention to detail and extensive parts inventory make us your First choice for anything from a quick oil & filter change to major engine, transmission and differential work. We are equipped to perform some of the most extensive welding jobs imaginable with all welding processes covered. From a simple aluminum step repair, to a full frame extension. We are also a fully stocked hydraulic hose and hydraulic hard line shop with the ability to make custom bent and flared hard lines and hydraulic hoses. Amen Diesel's diagnostic software is current with the latest Emissions Compliant engines. Our specialty services include diesel generator repair, complete repair of refuse trucks and equipment to include stationary bailers and compactors. Off road equipment, and hydraulic cylinder rebuilding.
Please check out our Gallery and see us at work. We look forward to doing business with you.
Parts
In addition to our mobile repair services we stock and have access to a wide range of new and used truck parts.
Bottom Line "We Do It All" at a Fair Price.
God Bless America. Support Our Troops.